Carbon Call expert advisory group to develop a roadmap for a stronger carbon accounting
The Carbon Call enters its next phase with the formation of an expert advisory group that brings together more than 20 experts from leading organizations in the public, private, and philanthropic sectors. Together, they will develop a roadmap to strengthen the reliability and interoperability of the planet's carbon accounting system. As more companies around the world begin to invest billions into decarbonization, it is all the more critical to strengthen the world's carbon accounting to monitor progress toward delivering a zero-emission future and an end to the climate crisis. The first phase is set to be completed by COP27 in November 2022.
Reliable measurement and accounting of greenhouse gas (GHG) emissions is critical to climate accountability and attribution. Today, carbon accounting suffers from data quality issues, measurement and reporting inconsistencies, siloed platforms, and infrastructure challenges. This makes it difficult to compare, combine, and share reliable data, particularly for companies.
Announced in February 2022, the Carbon Call brought together 20 leading companies, foundations, research institutions, and multilateral organizations to help address key challenges in the planet's carbon accounting. All are signatories to the Carbon Call, committing to report GHG emissions and offset information comprehensively. Fifteen of the signatories have committed to a more active role as participating organizations to develop universal accounting methodological standards.
Since its launch, five more companies have joined the Carbon Call as participating organizations and members of the advisory group: nZero, Tricon Energy, Radicle, Watershed, and ENGIE. Each new member company has committed to leading by example by reporting carbon emissions comprehensively, annually, and transparently. They will join a batch of new signatories to the Carbon Call to be announced on World Environment Day on June 5, 2022.
The advisory group, which consists of expert representatives from each participating organization, will consider areas such as:
advances in new data sources and scientific understanding;
digitization of current standards and reporting;
artificial intelligence and machine learning;
blockchain and distributed ledger technologies;
evolving regulations and standards in different jurisdictions; and
how different corporations are currently compiling GHG registries.
Marian van Pelt and Liv Watson, two global experts in GHG emissions, will lead the advisory group as chair and co-chair, respectively. Together, they will drive the expert advisory group's efforts to develop a roadmap for a stronger carbon accounting system.
Marian van Pelt brings more than 20 years of climate change and sustainability experience to her role as chair of the advisory group. She is a Senior Vice President at ICF and ICF Climate Center Senior Fellow. She serves as a member of the UNFCCC Roster of Experts, as nominated by the United States, where she is a lead reviewer of international Expert Review Teams of countries reporting under the UNFCCC. Van Pelt has also served as a technical working group member and chapter lead for the GHG Protocol's Mitigation Goal Standard and was a technical working group member for the Initiative for Climate Action Transparency (ICAT) volume on Technical Review and chapter lead on Sustainable Development Guidance.​
Liv Watson is the co-founder of XBRL and the XBRL International consortium and will serve as co-chair. She works globally with market regulators, accounting associations, and institutions on financial and business reporting standards and their benefits and adoption in corporate governance and social responsibility reporting. Watson is also helping to develop digital standards for the EU's sustainability standards as leader of the formats working group for the European Financial Reporting Advisory Group's (EFRAG) Project Task Force on a Corporate Sustainability Reporting Directive (PTF-CSRD).
The goals of the roadmap will be to assess science and data needs and explore the ability of different GHG accounting software platforms and organizations, data providers, and GHG ledgers to exchange information, and the limitations posed by interoperability constraints.
The kick-off workshop that took place on Tuesday, May 17, 2022, served to tap into each participant's expertise and refine the scope of the roadmap. An initial draft is anticipated to be released in August 2022 ahead of COP27.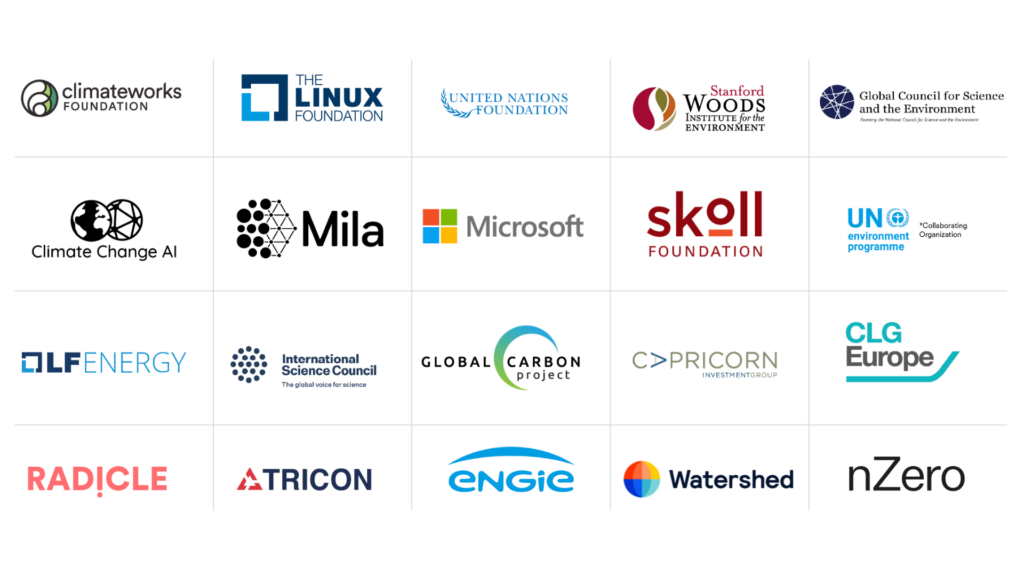 The full list of participating organizations and members of the expert advisory group include Capricorn Investment Group, Climate Change AI, ENGIE, Global Carbon Project, Global Council for Science and the Environment, International Institute for Applied Systems Analysis, LF Energy, Linux Foundation, Microsoft, Mila, nZero, Skoll Foundation, Stanford University, Radicle, Tricon Energy, United Nations Foundation, Inc., United Nations Environment Programme (UNEP), Global Carbon Project, the University of Cambridge, and Watershed.